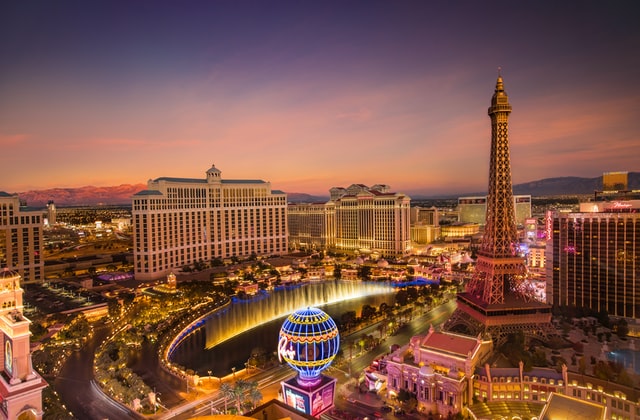 Renting a Car in Las Vegas
Las Vegas is a city that's best explored by car. With so much to see and do, you'll want to have the freedom to go where you want, when you want. Here's a guide to renting a car in Las Vegas:
1. Choose a car rental company
There are many different car rental companies to choose from in Las Vegas, so it's important to compare rates and amenities before making a decision. Some of the most popular car rental companies in Las Vegas include:
Alamo
Enterprise
Hertz
National
Budget
You can compare car rental deals in Las Vegas via Wisecars here.
2. Decide on the type of car you need
The type of car you need will depend on your travel plans. If you're only planning on staying on the Strip, you can get away with renting a small car. However, if you plan on exploring the surrounding desert or going on day trips, you'll need a larger car, such as a full-size car or an SUV.
3. Book your car rental in advance
It's always a good idea to book your car rental in advance, especially if you're traveling during peak season. This will help you ensure that you get the car you want at the best price.
4. Compare rates
Don't just take the first price you see. Be sure to compare rates from different companies before making a decision. You can use a website like Wisecars.com to compare rates from multiple companies at once.
5. Read the fine print
Before you sign the rental agreement, be sure to read the fine print. This will help you understand the terms and conditions of your rental, such as the mileage allowance, insurance coverage, and cancellation policies.
6. Be prepared to show ID and proof of insurance
When you pick up your car, you'll need to show your driver's license, credit card, and proof of insurance. You may also be asked to pay a security deposit.
7. Follow the rules of the road
Las Vegas has its own set of traffic laws, so be sure to familiarize yourself with them before you start driving. Speed limits are strictly enforced, and it's illegal to drive under the influence of alcohol or drugs.
8. Be aware of the heat
Las Vegas can get very hot in the summer, so be sure to stay hydrated and take breaks if you're driving for long periods of time.
9. Have fun!
Las Vegas is a great place to explore by car, so relax, enjoy the ride, and make some memories.
Renting a Car in Las Vegas Airport
McCarran International Airport (LAS) is the most convenient location for car rentals in Las Vegas. There are many different car rental companies to choose from at LAS, and rates are typically competitive. Run a comparison check here.
All major rental car companies' service counters await passengers at the Rent-A-Car Center, conveniently situated just 3 miles from McCarran Airport at 7135 Gilespie Street. This location provides seamless access to Interstates 15 and 215, along with the vibrant Las Vegas Strip. Open 24 hours a day, the Rent-A-Car Center boasts exceptional customer service amenities.
Accessing the Rent-A-Car Center is hassle-free, thanks to shuttle services available at both Terminal 1 and Terminal 3.
Shuttle buses can be found on the ground transportation level of Terminal 1 and Level Zero of Terminal 3. With departures every 5 minutes, the shuttle ride takes a mere 7 minutes, swiftly connecting you to your car rental destination.
To secure your preferred vehicle, it's advisable to make a reservation well in advance of your arrival at McCarran International Airport. Given the limited availability of walk-up options, planning ahead ensures a seamless rental experience.
Car rental companies in Las Vegas Airport:
Here are all of the car rental companies Wisecars works with in Las vegas Airport:
Sixt
Budget
Fox
Advantage
Easirent
Avis
NÜ Car Rentals
Ace
Europcar
National
Enterprise
Alamo
Returning a Car Rental to Las Vegas Airport
When it's time to return your rental vehicle at McCarran International Airport, simply follow the signs leading to the Car Return Garage. The entrance is conveniently located off Gilespie Street. As you drive, keep an eye out for overhead signs guiding you to your specific car rental company.
Upon parking your rented vehicle, head to the designated rental car counter. Knowledgeable service personnel are available at each counter to assist you in finalizing your rental agreement seamlessly.
After completing the return process, continue through the lobby and exit through the main doors. Here, you'll find convenient ground transportation options at your disposal.
Travelers can hop onto the shuttle bus destined for either Terminal 1 or Terminal 3. These buses depart approximately every 5 minutes, ensuring a quick 7-minute ride back to the airport terminals.
For added convenience, many rental car companies at LAS Airport offer after-hours pick-up or drop-off arrangements. You can request this option by sharing your travel plans with your chosen rental car company during the online booking or over the phone
Why Rent a Car in Las Vegas: Exploring the City's Treasures
Renting a car in Las Vegas opens up a world of possibilities, allowing you to experience the city's vibrant energy and explore its surrounding gems with unparalleled convenience. Here's why having a rental car is your ticket to unlocking the best that Las Vegas has to offer:
1. Seamlessly Navigate the Strip: The heart of Las Vegas, the Strip, dazzles with its iconic resorts, dazzling lights, and world-class entertainment. Having a rental car grants you the freedom to easily navigate this glittering boulevard, hopping from one legendary casino to another. Explore the themed hotels, catch a jaw-dropping show, and indulge in exquisite dining, all on your own schedule.
2. Escape to Natural Wonders: Beyond the glitz and glamour, Las Vegas is a gateway to breathtaking natural landscapes. With a rental car, you can embark on awe-inspiring day trips to the majestic Grand Canyon, the otherworldly landscapes of Red Rock Canyon, or the tranquil shores of Lake Mead. These natural wonders are just a scenic drive away, offering a refreshing contrast to the city's bustling energy.
3. Embrace the Neon History: Unveil the city's fascinating history and culture by taking a drive to the Neon Boneyard. This captivating outdoor museum showcases iconic neon signs from Las Vegas' past, providing a nostalgic journey through the city's evolution. With a rental car, you can easily explore off-the-beaten-path attractions that offer a unique glimpse into the city's storied past.
4. Dive into Desert Oasis: Discover the oasis in the desert at the Springs Preserve, a serene haven dedicated to preserving Las Vegas' natural and cultural heritage. Wander through botanical gardens, learn about sustainable practices, and delve into interactive exhibits. With a rental car at your disposal, you can effortlessly journey from the urban landscape to this tranquil retreat.
5. Unravel Hidden Gems: Las Vegas boasts a multitude of hidden gems awaiting your discovery. With the flexibility of a rental car, you can venture beyond the well-trodden path and uncover charming neighborhoods, local markets, and cultural enclaves that reveal the city's authentic character.
In essence, renting a car in Las Vegas elevates your experience from mere sightseeing to full immersion. Whether you're captivated by the glimmering lights of the Strip or yearning to explore the natural wonders that surround the city, a rental car ensures you have the freedom to tailor your adventure exactly as you envision it. Embrace the open road and embark on an unforgettable journey through Las Vegas and beyond.